Carrathool Races
The Carrathool Jockey Club is pleased to announce that we will be racing on 18th February 2023! The day is organised by the Carrathool Jockey Club in the small town of Carrathool. The town bursts at the seams with over 1000 excited race lovers.
Tickets and marquees are selling online through 123Tix: Carrathool Races Tickets (123tix.com.au)
The event is a 6 race program, starting at around 1 pm with local and metropolitan bookies and the SKY channel. There are fantastic prizes on offer from our sponsors, along with the famous Jackeroo Dash and Jilleroo Sprint.
There will be a continuous BBQ and licensed bar (no glass allowed). A range of beverages will be available including beer, wine, spirits and soft drinks with a ticket system operating for quick and easy service. Tickets must be purchased at the ticket tent before ordering at the bar (sorry, no refund if you have leftover tickets at the end of the night). 
Note there will be NO EFTPOS on the course. The Racetrack and race day is a licenced event and no alcohol may be bought onto the Racetrack. 
INTOXICATION OR ANY INDECENT, VIOLENT OR QUARRELSOME CONDUCT WILL NOT BE TOLERATED AT THIS EVENT!

Other Race Day Info
Fashions on the field are a feature for ladies and gentlemen, with some fantastic prizes from our generous sponsors. The famous Jackaroo Dash and Jillaroo Sprint always musters a great crowd!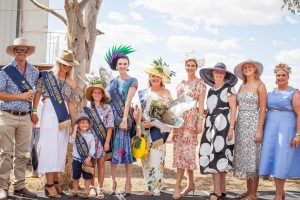 ---
 Thank you to our Silver Sponsors
ACS Equip
Nutrien
Terra Ag
TA Field Estates
Gundaline
Cooinbil
Yara
ChikQuip

 
Gallager Insurance Brokers
Guilford Transport
Vitera
Thank you to our Bronze Sponsors
Riverina Water Engineering
Broidal Contracting
Collier and Miller
Watertek
Carrathool Pub
Thank you to our Race Partners
Liberty Fuels
Pat Gannon / Lucinda Brown
Wig and Mary Ryan
Owen Toyota 
Woods Livestock Transport
Louis Dreyfus
Olam – QLD Cotton
Lowes Petroleum
Yenda Prods
Town and Country Tyres
Hutcheon and Pearce
O'Connor Farming
Intoxication or any indecent, violent or quarrelsome conduct will not be tolerated at this event
  Margie McClelland + Sophie O'Brien Photography for images