Carrathool Races…Save The Date!
The Carrathool Jockey Club has been successful in securing Saturday 29th of Feb for their 2020 Meeting.


Other Race Day Info
Fashions on the field are a feature for ladies and gentlemen, with some fantastic prizes from our generous sponsors. The famous Jackaroo Dash and Jillaroo Sprint always musters a great crowd!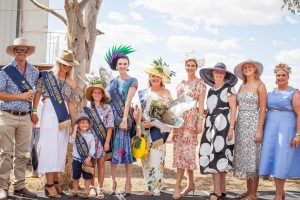 ---
Thank you to our Silver Sponsors
Guilford Transport
Gundaline
Cooinbil
Terra Ag
ChikQuip
Gallagher Insurance Brokers
Rawlinson & Brown
Yara Fertiliser
Thank you to our Bronze Sponsors
Riverina Water Engineering
Carrathool Family Hotel
Collier and Miller
Footraces Sponsor:
Griffith Central & T.A. Field Estates – Wyvern Station
Race Partners: Pat Gannon, Lucinda Brown, Wig & Mary Ryan, Liberty Fuels, Real Juice, Owen Toyota
Intoxication or any indecent, violent or quarrelsome conduct will not be tolerated at this event
Margie McClelland + Sophie O'Brien Photography for images