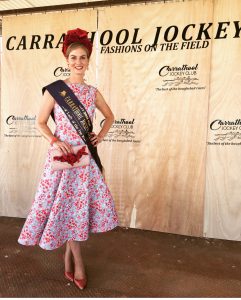 Fashions on the field at the Carrathool Races are a feature of the day.
Ladies and gentlemen have an opportunity to strut their stuff, with over $8,000 worth of prizes to be won!
Judging will take place from approximately 2pm for the following categories.
Jack of the Track 
Little Lady of the Day 
Best Dressed Gentleman
Belle of the Boughshed (25 years and under )
Best Dressed Couple
Lady of the Day
Due to weather conditions forecast for race day, Fashions on the Field will be judged according to Spring Racing criteria. Read more here ….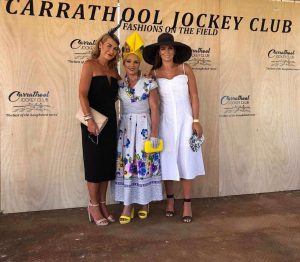 Carrathool Jockey Club would like to thank all of our Fashions on the Field Sponsors for their generosity:
Adorn Collection, Billabong Bottleshop, Blossoms Florist, Blue Sky Outdoor Griffith, Bunnings Warehouse Griffith, Corynnia Station B & B, Cupid & Beau, Drive Thru Pharmacy, Eclipse the Essential Spa, Embar Designs, Essentails on Banna, Fred Cole Betta Home Living, Gigi Marlow Salon, Griffith Hunting and Fishing, Hip Digs, La Perla Hair and Beauty, La Piccola Grosseria, Limone Dining, Marie Raccanello Photography, Marsh Millinery, Mia Casa, Namoi Cotton, Nurse Kate Clinics, Old Behlalee, Owen Toyota, Parlour Skin & Body, Penelope Haddrill Hats, Provincial Wealth, Rain Agribusiness, Rural Affinity, Sovata Fashion Millinery, Stomp, Texas Jane, The Glamour Salon, Trundle Trading Co, Doms Motors