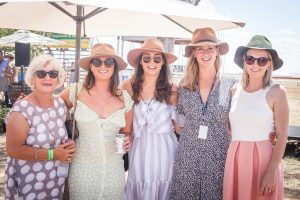 The bar and betting area at the famous bough shed races are aptly covered in boree boughs and shade cloth to shelter race-goers from the summer sun. Don't forget to bring your sunscreen, sunglasses and a hat, all essential accessory items for the day!
The weather is usually warm, with the chance of experiencing a dust storm, rain and of course, flies…a real Aussie experience!
Gates open at 11am with an entry fee of $20 per person!
Racing info
Great prize money of $65,000 attracts a field of horses and trainers from near and far (including NSW, ACT & Victoria) which produces well-contested races. The event is a 6-race program, starting around 2pm with local and metropolitan bookies there to take bets, as well as SKY Channel for the seasoned punter (Note: no EFTPOS available on course).
| | |
| --- | --- |
| 1.30pm | Race 1: BM Proud & Elders |
| 2.15pm | Race 2: Grainlink |
| 3.20pm | Race 3: Rawlinson & Brown & ACS Equip & Cooinbil |
| 3.55pm | Race 4; Gallaghar Insurance & Terra Ag & Gundaline |
| 4.35pm | Race 5: Rivcott Cup |
| 5.20pm | Race 6: YARA Fertiliser & ChikQuip & Guilford Transport |
2020 Race Program to come
View nominations and acceptances (just prior to race day) on the Racing NSW website.
Awards will be given to the Most Successful Jockey, the Most Successful Trainer, Cup Jockey & Cup Trainer.
The famous Jillaroo Sprint and Jackaroo Dash will be held between Race 5 and 6.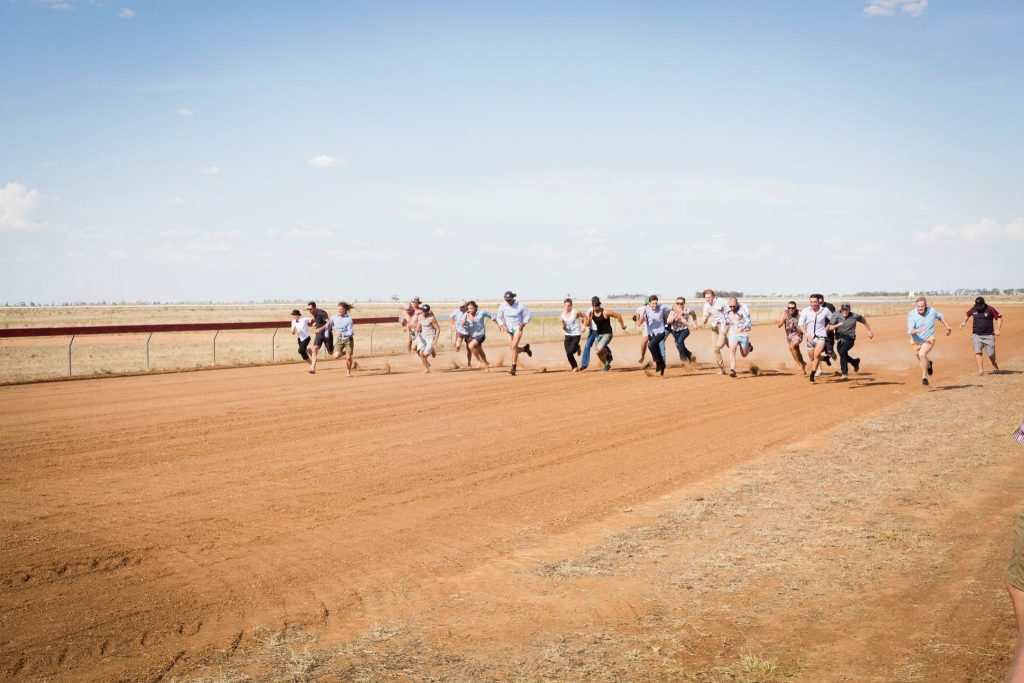 On-course facilities
The Carrathool Jockey Club caters for everyone's needs with a continuous BBQ, licensed bars, refreshments and entertainment at the racecourse continuing well into the night. Buses will be running between the Carrathool Pub and the racecourse until after midnight when the pub shuts.
Licensed Bars (no glass allowed) – A range of beverages will be available including beer, wines, spirits, mixed drinks and soft drinks with a ticket system operating for quick and easy service. Tickets must be purchased at the Ticket Tent before ordering at the bar. (Sorry, no refund if you have leftover tickets at the end of the night). The licensed bar facilities will be open from 11am until 8pm.
Food – Our caterer's provide a fantastic BBQ all day and into the evening. Breakfast (bacon & eggs) and plenty of water will also be available on Sunday morning!
Merchandise – Caps, stubby holders and bumper stickers for your car will be available for purchase on the day.
EFTPOS facilities will not be available at the race course.
Please note: NO GLASS ALLOWED.
Jillaroo Sprint & JackAroo Dash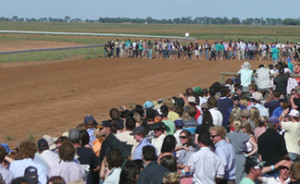 The Jillaroos and Jackaroos race is a hotly contested foot race through the dirt and dust, that leaves the participants exhilarated and the cheer squads hoarse with delight!
There are also great prizes to be won, kindly sponsored by Griffith Central Shopping Centre.
2020 MEMBERSHIP
We invite you to jump on board and support our club through becoming a member. Through becoming a Carrathool Jockey Club member you will enjoy a range of benefits including:
Single entry to the races
Access to 'Express Lane' at the main bar
Designated members parking area
Membership for 2020 is $30.00 and the membership form can be downloaded below.
Carrathool Jockey Club Membership Form 2019
Entertainment
We have live band, Wobbly Boot kicking off at dusk, and will be playing into the evening, just before gates close at 11pm. Wobbly Boot offer classic hits with a country feel- one not to be missed!